Titus Groan
Seventy-seventh Earl of Gormenghast
(Gormenghast)
A ritual, more compelling than ever devised, is fighting anchored darkness. A ritual of the blood; of the jumping blood. These quicks of sentience owe nothing to his forebears, but to those feckless hosts, a trillion deep, of the globe's childhood.
The gift of bright blood. Of blood that laughs when the tenets mutter 'Weep'. Of blood that mourns when the sere laws croak 'Rejoice!' O little revolution in great shades!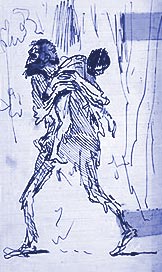 Sketch of Titus being carried
by Flay in the woods
Titus the seventy-seventh. Heir to a crumbling summit: to a sea of nettles: to an empire of red rust: to rituals' footprints ankle-deep in stone. Gormenghast.
What do I care for the symbolism of it all? What do I care if the castle's heart is sound or not? I don't want to be sound anyway! Anybody can be sound if they're always doing what they're told. I want to live! Can't you see? Oh, can't you see? I want to be myself, and become what I make myself, a person, a real live person and not a symbol anymore.